Parent Setup/Login Information
The Hamblen County Department of Education utilizes a notification system, called SchoolMessenger, to contact parent/guardians in a fast and efficient manner with important school information and emergency school or district information who have students enrolled in the district.
SchoolMessenger utilizes the family information stored in our student information system to send automated phone calls, SMS text messages, and email messages. Parents can customize the format(s) they prefer for receiving messages by logging into ParentPortal and choosing the SchoolMessenger icon in the menu on the left. To ensure that you receive notifications, the district asks that you check the contact information for your student(s). If your contact information is incorrect, contact your child's school and the staff will assist you in updating this information.
Important: Keep your contact info up-to-date with each of your child's schools by calling them directly anytime your primary phone or email changes. Contact Manager works alongside other notifications that your school may send, but editing your information inside Contact Manager does not change your information at your school. (To change your contact info at a school, call them and say, "I need to update my phone number in PowerSchool.") Read more about updating your information.
Already have an account?
Need to create an account?
Choose whether you are a Parent/Guardian or a Hamblen County Department of Education Employee.
I AM A...
BEFORE YOU SET UP YOUR ACCOUNT:
Always contact your child's school(s) when your primary phone numbers have changed. Changes made in Contact Manager will allow the automated system to reach you at your new phone numbers, but that information does not get updated into your child's official record at the school. Always inform the school when your contact information changes.
WHAT YOU'LL NEED TO BEGIN:
Be sure to have student ID#(s) handy...the same number used for cafeteria meal accounts and on report cards. You'll also need a valid email address, and the ability to access it, and be able to make a phone call from a number currently on file at your child's school. (Note: Each student ID number will only work on one account.)
Verify your contact information
Information for Parents/Guardians
SchoolMessenger uses the contact information that parents/guardians have on file with the district through our student information system to send you notifications. To verify your contact information, log into your Parent Portal account.
If you are not registered for a Parent Portal account, and wish to register, Parent Portal page to register.

If you are registered for a Parent Portal account, but do not know your username and password, contact your child's school.

If your contact information is incorrect in Parent Portal, contact your child's school.
Customize Contact Preferences
It is recommended that you customize your contact preferences, or more specifically tell our computer system HOW you want to receive messages, via phone call, email or text message.
1. Simply log in to your ParentPortal account and select the "SchoolMessenger" option on the left side of the screen.
2. Click the Contacts tab in the top navigation bar and click Edit to modify the notifications preferences for each member of your family. Make sure to save your preferences for each family member at the bottom of the SchoolMessenger page.
3. If you need to set up a ParentPortal account, please contact your child's schools.
SMS Text Messages
In addition to phone and email notifications sent via SchoolMessenger, we offer a SMS text message notification service to families that have students enrolled in the district.
Please contact your child'school to ensure you have your correct cell phone number on file.
To opt-in to receive SMS messages from the Hamblen County Department of Education, you may simply text "YES" to 67587.
Please note, although this is a provided service, the Hamblen County Department of Education is not responsible for any text message charges that you may incur by opting-in to this service. Please check with your wireless provider for specific details about any possible charges.
SchoolMessenger App
Another great way to stay connected is to install the SchoolMessenger app onto your mobile device! The app is packed full of features and allows you to fully customize how you would like to receive notifications from your student's school and the district right from the app. The contact preferences in the SchoolMessenger app are immediately updated within the system, much like the instructions shown, above which explains how to change your contact preferences through the ParentPortal dashboard.
Download SchoolMessenger for Google Android
Download SchoolMessenger for Apple iOS
After downloading and installing the SchoolMessenger app onto your smartphone or tablet, please register an account with SchoolMessenger using the email address listed at a contact for every student you might have enrolled in a Hamblen County School. A simple email and password will do.
Please contact the office staff at your student's school building to the email address on file.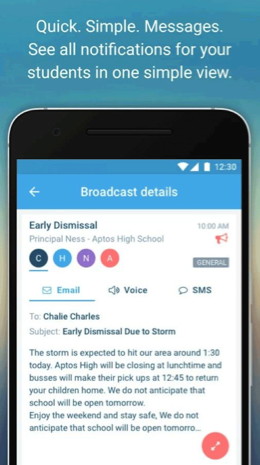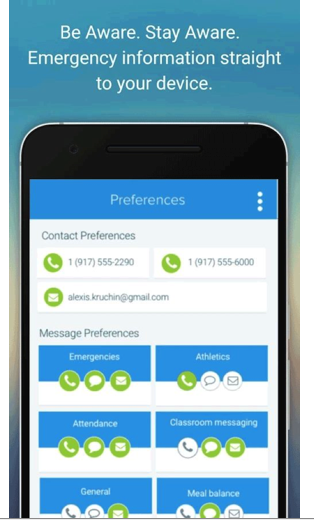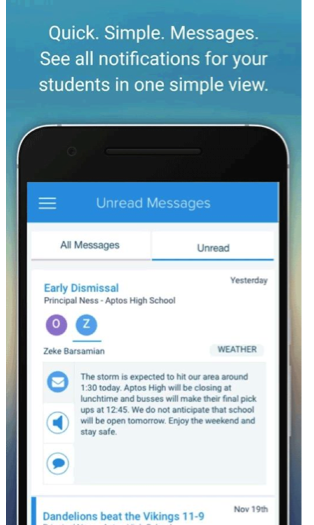 Push Notifications
You may also choose to receive push notifications from the SchoolMessenger app for new communications from your student's building(s) that are sent through our SchoolMessenger system. Please check the push notification settings from within the SchoolMessenger app and please visit the SchoolMessenger app website for more information about the app.
Web App
The SchoolMessenger app is also available as a web app from a web browser by visiting https://go.schoolmessenger.com.